Our philosophy is simple, we don't stand still and we strive for more. We are pioneers in the industry, meaning we say yes in the face of no, we are constantly re-imagining new ways of doing things and we play and create to constantly bring you new creations and inspiration.
We are creators at heart, always asking "what if?", not limited by the current state of play and continuously bringing new ideas and innovation to our customers. We ask questions, seek feedback, seek to understand and identify gaps and bring along solutions with them to raise the bar across the industry.
Here at Priestley's Gourmet Delights, the passion we have for food is at the heart of who we are since 1996 we have been guided by our principles in sourcing the best ingredients to meet our exceptional quality standards and always asking 'what's next?' to delight our consumers with every mouthful of dessert and savoury treat.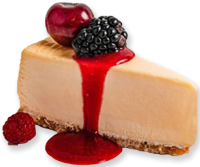 "Priestley's Gourmet Delights offers everything you need for every occasion for all your dessert requirements. Priestley's staff are very friendly and offer expert advice to complement an extensive and amazing range of premium desserts"
"The quiches are great, we get them straight out of the freezer and straight in the oven. They are the prefect addition to our menu as people can have them for breakfast, brunch, or lunch. We're very happy with the product - tasty and we get great feedback from the customers"
"Priestley's have an amazing great range of products, and the taste… Yummo! Belinda, our local rep, top class. Easy to deal with. Always working with us to maintain high level of customer service and customer satisfaction. Nothing is ever an issue and if we encounter hurdles, Belinda will work with us to find a quick and productive solution"
"I have been using Priestley's cake range for the last 25 years, the product is consistently good and the range caters for everyone's needs"
"I first started to use Priestley's Gourmet Delights in 2018. I saw their cakes in one of the distributor catalogues that I received so I asked for a sample of their caramel slice, which I absolutely loved. Since my first order, I now have 20 plus products of Priestley's in my bakery. I recommend Priestley's to any cafe owner walking through my door"
"We use Priestley's cakes & desserts in our busy café and gift store. The quality is ALWAYS of the highest standard and their product doesn't last long in our cake cabinet. Our customers expect exceptional cakes and desserts and Priestley's always deliver"
"I sell the Priestley's cakes all the time at our main site. Most favourite are lemon meringue, NY Cheesecake, Tiramisu, carrot cake, pumpkin and ginger cake! Also, the peppermint slices, brownies, caramel, red velvet and Jaffa. They always look and taste spectacular".
"Not only are they the best cakes and desserts around, but the sales manager Michelle Desira even made a personal visit to my husband in hospital with some declision cake. I have always sold Priestley's and will continue to do so. Thanks Again 🤗
Certificates and
Data Forms
Training And
Recipe Videos
Digital Brochures
And Recipe Cards
Digital Brochures
and Recipe Cards
Brand Assets And
Social Media Guidelines
Freshen up your menu with new delicious treats.
Grow your customers and business,
enquire now to start purchasing.
In this episode of Bite Size, we explore the art of team building and its crucial role in the food service industry. We unpack the art of fostering strong and
If you currently run a food venue that needs to be 'zhuzhed up' or you're thinking of opening one, this episode covers the design and layout tips and tricks you