Thank You for considering Priestley's as your partner 
We look forward to helping you in your foodservice business with:
Extensive range
You will be spoilt for choice with over 150 varieties to choose from to suit your business and delight your customers.
Ambient creations: cakes, slices, individual tarts, muffins & breads
Heat & serve: self saucing puddings, choc ooze, plum puddings, lattice top tarts & large pies
Treats to go: slices, lamingtons, friands, brownies, wrapped treats, tarts, cakes & quiches.
Dietary & food trends: gluten free, dairy free, vegan, nafnac (no artificial flavours or colours)
Australian made and family owned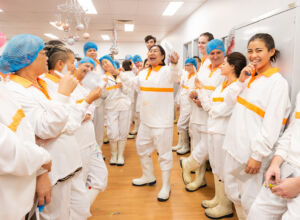 Priestley's Gourmet Delights was born in Brisbane in 1995 to create cakes for the flourishing and vibrant café scene. The Christophersen and Jones families lead the celebrations to commemorate 26 years of their energetic Australian family owned and operated enterprise. The company has grown and developed, with the core value to consistently improve, for our customers, our staff and our planet. Over the past 26 years we have been driven to perfect the art of supplying frozen cakes and desserts for Australian foodservice businesses, to delight our customers and consumers.
Saving time and money
Frozen and pre-portioned to minimize waste.
Decorated for great visual appeal with cakes and pastries that are ready to serve and save time.
Freezer to plate options so you can store frozen and manage demand with minimum waste.
Assurance of quality and food safety
Peace of mind with the consistent supply of reliable, quality products.
HACCP + FSSC22000 certifications as testimony to our high standards of food handling and business operations.
In line metal detection and on-site laboratory to facilitate rigorous environmental testing.
Microbial, Gluten & Dairy testing to ensure shelf life and dietary claims.
Peace of mind with complete traceability.
Business Support
Label data (incl. CoOL) & cake tags with kJ per serve available to download from this website.
Serving suggestion videos to help create ideas to upsell & increase the value of your dessert menu.
Marketing support with images and point of sale for your use in digital media & in-store.
Friendly cake consultants to understand your business and help with menu choices, visual merchandising, staff training and dessert ideas.
Our vision is to make people smile and create lasting memories.
Meet our exec team…